Great Hall (A132)
New photo pending
Type
Centrally managed lecture theatre with retractable raked seating (or tables & chairs for University Exams).

The Great Hall Foyer (holds approximately 60 people) should be requested specifically if required for events and/or catering (the Great Hall and Foyer are always booked together).
Location
College Building: First Floor (overlooking St Johns St entrance)
Capacity
500 fixed seating (not currently in use)

210 exam style (please allow sufficient time either side of exam to change the set up)
Facilities
Standard DALI specification of AV Pod, including new PC, speakers, visualiser and laptop connections.
Large video wall on stage
Personally assigned radio microphones to be used
Data projector

Portable whiteboard

Natural light and curtains
Lectern
Portable stage: this is to aid access from the main stage. It is intended to be left out for teaching during term-time
Limited step-free access (assistance may be required to use stair lift; see image below). The Hall is accessible using the stair lift, but the stage is only accessible via a small staircase.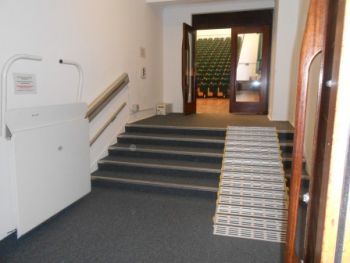 Emergency Evacuation Assistance
The Evac-chair and emergency call point for wheelchair users or persons requiring emergency assistance are located by the refuge area (near the staircase) in the Great Hall Foyer.
Layout Options
The Great Hall should remain set up for lectures with the raked seating out throughout term time. Any changes to this need to be agreed in advance with Property and Facilities (Timetabling and Portering).
Exam Layout (210 capacity)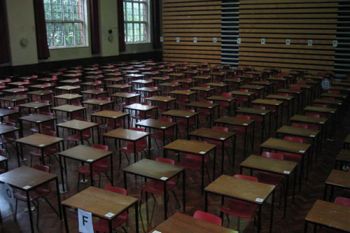 Fair/Stalls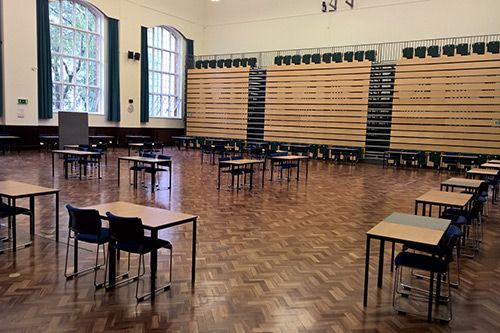 Foyer (Catering Table Options)